GREENE CO. PA

I have KIRBY'S in Greene Co., PA that settled around Waynesburg. They came from Burlington Co., NJ. Recently found data that says they were originally in New England, before moving southward to NJ. These were Quaker's.

My REBECCA KIRBY was dau. of ISAAC KIRBY/PHOEBE HAINES. Isaac was b.Hanover, NJ. Phoebe Haines was his 2nd wife, and they married in Green Co., PA. ISAAC KIRBY was son of JOSEPH KIRBEY or KIRBY and ANNE EMLEY.
I haven't sorted out all the new data of them coming from the WILLIAM KIRBY line in New England yet.

ISAAC KIRBY [2397], born 23 Sep 1756 in Hanover, Burlington, NJ; died 1 Feb 1834 in , Greene Co., PA. He married (1) on 20 Apr 1791 in Greene Co., PA, HANNAH LISHMAN [2398], born abt. 1760; died bef. 1798. He married (2) on 15 Sep 1799 in Waynesburg, Greene Co., PA, PHOEBE HAINES [2399], born 28 Oct 1772 in near Waynesburg, Greene Co., PA; died 24 Feb 1852 in , Greene Co., PA.

Notes for ISAAC KIRBY:
Isaac was in the Rev. War, N.J., Pvt. 1777-1779, Battles of Princeton and Monmouth (DAR verified), Jan. 3, 1777. It is certified that records show that Isaac Kirby served as a pvt. with Capt. Zacharia Clevenger Co., Col. Wm. Shreve's 1st Reg., Burlington Co., NJ Militia Jan. 1st, 1777 for one month. He served as a Private with Col. Wm. Shreve's Reg., Burlington Co., NJ Militia, Nov. & Dec. 1777 (45 Days). Served as a Pvt. with Capt. Zacharia Clevenger Co., Col. Wm. Shreve's Reg., Burlington Co., NJ Militia June & July 1778, 29 days. At Battle of Monmouth, Jun 28, 1778 he served as a Pvt. with Capt. Marmaduke Curtis Co., 2nd Reg., Burlington Co., NJ Militia, 6 mo.. in 1779. All above service during the Revolutionary War. He was born in 1756 and died in Green Co. Penn. in 1834. (Ref: From - STATE OF NEW JERSEY - OFFICE OF ADJUTANT GENERAL) (Vol. II, p. 158 U.S. Pensioneir State Penna. certificate from Adj. Gen., NJ.; Vol. IV, pg. 3? - p. 656, Official Register of Officers and men of the Revolutionary War, of New Jersey, by the Adj. Gen.)
Book - Abstracts of Rev. War Pension Files, p. 1964: W 1196 NJ Line, sol was born 23 Sep 1756. He lived in Burlington Co., NJ at the end of Rev. War and for several years after thereafter, then moved to Greene Co., PA; and sol. married there to Phebe Hains at the home of her father (not named) 1 mile west of Waynesburg, PA on 15 Sep 1799; sol. appl 20 Sep 1832 in Greene Co., PA where he had lived for 42 years, and sol. died there 1 Feb 1834, and his wife appl. there 17 May 1849 age 77. Children were: Isaac Jr b. 23 Aug 1800, Joseph H. b. 21 Feb 1802, Rebecca b. 29 Jan 1804 and James b. 24 Jan 1806 (part of page missing so there may have been other births) grandchildren of sol. who were children of his son James Kerby and his wife Orpha were: Joseph b. 14 May 1832, Pleasant b. 6 Jan 1833 and John b. 22 June 1834, also shown was Rebecca dau. of Joseph and Mary Kirby was b. 17 Dec 1766 but her exact relationship to sol. was not stated.

Phoebe (Haines) Kirby received a pension, vol. II, pg. 158. U.S. Pensioner State of PA. Page 656, Official Register of Officers and men of the Revolutionary War of New Jersey by the Adj. Gen.
(Above information copied from a copy of DAR application of descendant Blanche Louise (Bier) Sears - This application was never submitted, but is the same data obtained by the mother of Blanche, who was Esta Adaline (McReynolds) Bier, to obtain her DAR membership)
Esta (McReynolds) Bier - DAR National # is 3518l94
Above information verified by Nat. #227892 (see McReynolds File)
LDS/IGI records, NJ (end. & Seal. listed as pre-1970 - no other dates given.)
"Family Tree Maker's World Family Tree", Vol. 3, Ped. #3489 (sent in by Lauren Hallock, 3257 Eagle Watch Drive, Woodstock, GA 30189-6780)
Records of Beverly A. Kirby, 1706 West Main St., Richmond, IN 47374 Received 20 Oct. 1997 via letter.
p. 9A: (1756) Joseph Kirby, son, September 23d. Ref: "Stewart's Genealogical and Historical Miscellany," Number #2, 1918 by Frank N. Stewart. (reprint 1971, index by Mrs. Jeanne M. Hammell) Gloucester Co. Historical Society, Woodbury, NJ) Birth data from register of a doctor
who served the Burlington Co. area from 1753-1773 (name unknown, and the booklet is also incomplete).

Notes for HANNAH LISHMAN:
Family Tree Maker's, World Family Tree, Vol. 3, Ped. #3489

Notes for PHOEBE HAINES
p. 1964, "Abstracts of Rev. War Pensions Files" This book says, re Isaac Kirby's pension, that they were married at the home of her father (not named), who lived 1 mile west of Waynesburg, PA. (This is in Greene Co., and not far from Jefferson twp. where she and Loudy John Pogue lived.)

Children of ISAAC KIRBY and HANNAH LISHMAN were as follows:
1. Samuel Lishman Kirby [3397], born 16 Sep 1794 in Greene Co., PA; died 3 Sep 1873 in Low Point, Woodford, IL. LDS/IGI research, NJ, PA, IL Family Tree Maker's World Family Tree, Vol. 3, Ped. 3489. He was a farmer. He had 12 children. 1850 Census of Woodford Co., IL, has his birthplace as PA.. (They list 9 children.) There was also an Elizabeth Roberts, age 48, b. PA, listed in this household. She might have been a live-in helper, considering all the children (Dwelling 745, Family No. 746) (with 9 children). His step-sister Rebecca (Kirby) Pogue was shown as living with them, but as a separate family.

Children of ISAAC KIRBY and PHOEBE HAINES were as follows:
1. ISAAC KIRBY (Jr.) [3398], born 23 Aug 1800 in, Greene Co., PA.
LDS/IGI search - NJ, PA, p. 1964, "Abstracts of Rev. War Pension Files"
2. JOSEPH HAINES KIRBY [3502], born 2 Feb 1802 in Whitely twp.,
Greene Co., PA; died 31 Jan 1893 in Berwick, Warren, IL. p. 1964,
"Abstracts of Rev. War Pension Files;" LDS/IGI, PA; LDS/IGI, IL - Batch
0177922/film. Says he was of Berwick, Warren Co., IL. Family Tree
Maker's World Family Tree, Vol. 3, Ped. #3489
3. REBECCA KIRBY [2380], born 29 Jan 1803/04 in , Greene Co., PA;
died 1871 in Chicago, Cook, IL. She left her husband LOUDY J. POGUE,
and moved to Illinois from PA, about 1850. No indication of a divorce
for them, though. No tradition of such either. On the 1850 Census, he
listed her and children in Greene Co., PA, Jefferson twp., and she
listed herself with children in Woodford Co., IL. Rebecca Pogue is
listed in the 1850 Census of Woodford Co., IL. She is shown living next
door to a stepbrother, Samuel Kirby, and his large family of 8 children.

Loudy listed her (with wrong age) and some of the children as living with him in Greene Co., PA, 1850 Census. Possibly this was the year she left PA, and he expected her to return. He listed the same children as she listed as being with her. Their oldest son Christopher was not listed with either of them, being of age 25 then. Not sure where he was located at this time. He and his younger brother John United States Pogue do show up as living with his sister Jane and her husband in
Livingston Co., IL in the 1860 IL Census. LDS/IGI search, PA (shows end. & seal. both pre-1970) p. 1964, "Abstracts of Rev. War Pension Files", researched by Millie Hoskinson, descendant, Oct. 1993. Rebecca Pogue, age 66, listed in 1870 Chicago, Cook Co., IL Census, 13th Ward, series M593, roll 207, p. 415. At time of this Census she was living with her dau. Margaret (Pogue) Manlove. Her belongings were valued at $2,000.
"Family Tree Maker","World Family Tree" Vol. 3, Ped. #3489

4. JAMES KIRBY [3503], born 24 Jan 1806 in, Greene Co., PA; died
1835. p. 1964, "Abstracts of Rev. War Pension Files," Family Tree
Maker's World Family Tree, Vol. 3, Ped. #3489

---


SAMUEL LISHMAN KIRBY (son of Isaac & Hannah (Lishman) Kirby) [3397],
born 16 Sep 1794 in Greene Co., PA; died 3 Sep 1873 in Low Point, Woodford, IL. He married abt. 1820 in, of Greene Co., PA, ELLINOR/ELEANOR HAINES [2392], born 27 Dec 1800 in NJ; died in Low Point, Woodford, IL. (Eleanor was sister of Phoebe Haines, 2nd wife of Samuel's father Isaac Kirby.)

Notes for ELLINOR/ELEANOR HAINES: LDS/IGI, PA
1850, Fed. Census, Woodford Co., IL, pg. 495. Most of the others in this Haines family had been established in NJ for awhile and were of German ancestry (i.e. Heintz became Haines)
She was younger sister of Phoebe Haines, mother of Rebecca Kirby who married Loudy J. Pollock.
Family Tree Maker's Family Archives, Vol. 3, Ped. 3489.

Children of SAMUEL LISHMAN KIRBY and ELLINOR/ELEANOR HAINES were:
1. HANNAH KIRBY [4078], born 16 Jun 1822 in , Greene Co., PA.
1850 Fed. Census, Woodford Co., IL, p. 495.
2. REBECCA KIRBY [4079], born 18 Nov 1827 of Kirby, Greene, PA.
1850 Fed. Census, Woodford Co., IL, p. 495.
3. ANDREW JACKSON KIRBY [4080], born 14 Dec 1829 in Newton, Greene
Co., PA. 1850 Fed. Census, Woodford Co., IL, p. 495.
4. JOHN HAINES KIRBY [4081], born 1831/32 in Newton, Greene Co.,
PA. 1850 Fed. Census, Woodford Co., IL, p. 495.
5. SARAH KIRBY [4082], born 1833 in, Greene Co., PA.
6. LUCINDA KIRBY [4083], born 1837 in, Greene Co., PA.
7. HENRY KIRBY [4084], born 1838 in, Greene Co., PA.
8. JAMES KIRBY [4085], born 1842 in, Greene Co., PA.
9. OSBORNE KIRBY [4086], born 1845 in, Greene Co., PA.
Donna Sears Chernick
Bellevue, WA
donna.chernick@internetMCI.com
---
BERKS CO. PA.
For a genealogist, the will of Thomas KIRBY, originated four years before he
died in Maidencreek township in 1765, is a dream come true. In addition to
disposing of several hundred acres of property in the New World, he also
made a bequest of land in the Old World:

And further Whereas, I, Thomas KIRBY, son of William KIRBY late of Peter
Street near the Corner of Stratten ground and the Horse Ferry Road of
Westminster in the city of London in Great Britain Waggonmaker, and
Elizabeth his Wife my mother decd. Was by my Uncle William Standley of my
mother by Indentures written bearing date on or about Bartemas (alias
Bartholomew Fair of the said city) in or about the last year of the reign of
our late Sovereign Lady Ann, Queen of Great Britain , aforesaid bound as an
Apprentice unto a certain James Spenser living in Paved Alley opposite
Bridle Bridge in Black Frayers in the Said City aforesaid whitesmith, as by
Record kept in the Office for Recording Such Writings in that part of the
Same Said City relation thereunto having had may at large appear, being as I
am informed the only Surviving Heir or next of nearist of Kins living to the
Estate of my grandfather Stanley (mothers father) who with his Son Thomas my
Uncle are deceased without other issue, situated in Knights Bridge near the
Corner of High Park near the city aforesaid usually let at the yearly rent
of Seventy Pounds Sterling money of Great Britain aforesaid. Which Said
Estate I to will, consitute, impower, authorize my Said Eldest Son Joseph to
take Possession of …..

Few and far between are 18th century wills mentioning even the testator's
country of origin. Let alone such a quaintly detailed description of his
property holdings in London. One cart actually imagine hearing a
horse-drawn carriage clattering through the foggy streets of London to
"Bridle Bridge" and pulling up at the door of James Spenser, whitesmith.

Unlike most of the soon-outnumbered English immigrants to Berks County, who
settled in Reading or removed to Philadelphia, Thomas Kirby settled "in the
country" ___several miles north of Reading along what is now U.S. 222, where
the village of Kirbyville bears the family name.

After such a wonderfully informative document to begin a study of the Kirby
family, however, the records grow more scarce. According to a Kirby family
Bible, the whereabouts of which is now unknown, Thomas Kirby had the
following children:

Joseph born 1722
Thomas born 1724
John born 1726
Mary born 1728
William born 1730
Peter born 1732
Elizabeth born 1734
Standly born 1736
Michael born 1737

Unfortunately, these children either scattered to parts unknown or they just
did not leave the written records that their father had done. Excerpt for
Standly, who died in Maidencreek Township in 1803, the eventual place of
residence of Thomas' children cannot be easily discerned. The 1790 U.S.
Census lists a Joseph Kirby in Washington County and one in Mifflin, as well
as a Michael in Philadelphia. [Tax lists of Cumberland Co. PA reveal that Thomas, William and Peter were there during the Rev. War and served in the local Militia.]

Standly Kirby (1736-1803), named for his mother's family, did not leave a
will: Letters of administration were granted to his widow Dinah, with David
Kirby, presumably a son also signing the administration bond.

Possibly he also had a son Thomas who died in 1807 in Union Township with
minor children and a son Stanly, who is buried on the Kirby family cemetery
in Maidencreek Township. This Stanly (1773-1850) became a prominent
resident of Berks county and served for several years as county
commissioner. He married Hannah Merkel, daughter of Caspar and Biandina
Merkel.

David Kirby, son of Stanly J. for whom the village of Kirbyville was
actually named. Stanly J. operated a roadside tavern in Maidencreek
Township, where he served as postmaster for a number of years, thus giving
his names to the tiny settlement. Stanly J. married first to Caroline
Kauffman. He later married Mary Geehr.

Stanly J. Kirby had in his possession a number of Kirby family documents and
heirlooms, according to Morton L. Montgomery's " History of Berks County"
(1909 Edition) and Land deeds and legal documents from the early 18th
century, the family Bible and several antique grandfather clocks. Since
Stanly J. had no surviving children, the present whereabouts of these items
is uncertain.

EARLY BERKS CO. LIST OF TAXABLES c1752:

MAIDENCREEK TWP., BERKS CO. TAX

KIRBY, Thomas
KIRBY, Peter


EXETER TWP., BERKS CO. TAX
Single Men

Kirbe, Joseph
Kirbe, William
++++++++++++++++++++++++

http://www.rootsweb.com/~GENHOME/ghlib02.htm
---
TAXABLES OF BERKS CO. 1754
Exeter = Joseph & William

CARNARVON ? = Valentine [VALENTINE LISTED IN PHILADELPHIA AS THE IMMIGRANT]
MAIDEN CREEK = Peter & Thomas

INHABITANTS IN 1767 BERKS CO.
KERBY, Standley Maiden Creek twp.
KIRBY, Joseph Exeter
KIRBY, Michael (single) Maiden Creek, twp
KIRBY, Peter Exeter
KIRBY, William Exeter
KIRBY, Samuel Long Swamp twp.
Have found the name in some of the books but not to much will send what is
here and you can keep what is of use to you. I see they are Quakers so
that may be why. From what I understand they didnot turn in their marr.
deaths etc to the county to often. I have the will abstracts for Berks
and see that Thomas left a good one for you. Will send the data from the
other wills.

BERKS CO. CH. REC. 18TH CENTURY VOL. 1
pg.30 ST. GABRIEL'S CH. AMITY TWP. DOUGLASVILLE
1 May 1762 Stanley KIRBY and Dinah LOYD of Berks Co. marr.

VOL. 2 EXETER MONTHLY MEETING pg. 138

31 Aug 1758 Sarah WELBERHAM writes that Joseph KIRBY made suit in order
for marriage but that they parted with mutual consent. Joseph KIRBY,
condemns his making suit to a woman not in unity with friends.
pg. 141,142,143
29 Apr 1762 Joseph KIRBY has married contrary to discipline, with one not of our Society.
28 Oct 1762 Mary KIRBY, has been in a disabled condition of body for several years.
15 Nov 1762 Committee has spoken to Thomas KIRBY about removing his dau.mary, who is willing she should be removed and they have got a place for her to be at when she takes the medicines.
26 Jan 1764 Mary KIRBY is deceased since last meeting.
(The date before this is 29 Dec 1763 gert) Am really disappointed about the lack of data for this name generally a lot more in these records on people gert

1st REFORMED CH. OF READING
MARR:
22 Sep 1875 John H. Kirby & Annie M. BUCHANAN
28 Oct 1800 Lina Kerbi & Abraham LESCHER both of Alsace twp.
29 Nov 1846 Maria Kerby & Isaac LEVAN both of Cumru twp.
22 Sep 1850 Barbara Ann & John WESTLY both of Reading


In another marr. listing I find that the date for Stanley Kirby & Dinah
Loyd is 21 May 1765 (could be either and two different
interpertations of the last number.

A GENEALOGICAL GUIDE TO BERKS COUNTY PRIVATE CEMETERIES by Laurel
Miller,Mary Ellen Lash, Kathleen Lorah

pg. 128
KIRBY
South side of RT. 222, Kirbyville, 2.4 miles north of Rt. 73.
relocated, wall intact, several yards to the south, furing road
construction. Maidencreek twp.

Solomon, 16 Sep 1800 17 Feb 1875 aged 74.5.1
Anna Maria 18 Jul 1804 13 May 1862 aged 57.10.24 wife d/o Christian & Catharine FOX
David 25 Feb 1807 24 Apr 1878 aged 71.1.27

Stanly 21 Mar 1773 21 Jul 1853 aged 80.3.21
md. 14 Jul 1794 Hannah MERKEL, md. for 55.5.16 ; 7s/5d, 2s/1d still living.
Hannah 07 Jun 1775 30 Dec 1849 aged 74.6.23 d/o Caspar & Blandina MERKEL
Solomon 12 Jul 1855 11 Jul 1856 aged 1 yr less day s/o Stanly & Caroline
Stanly J.14 Mar 1832 01 Sep 1916 aged 84.5.17
Caroline 17 May 1833 14 May 1895 aged 61.11.28 d/o Daniel & Mary KAUFMAN
Two ch/o Stanly & Caroline aged 10 days & 14 days.

KAUFFMAN DANIEL W.30 Apr 1830 d.05 Jun 1897 aged 67/1/5 s/o Daniel & Mary
Elizabeth 10 Apr 1816 30 Apr 1895 aged 79.0.20 w/o William HAWKINS d/o Daniel & Mary KIRBY
s/o Stanly J. & Caroline d. 10 Mar 1854 age 14 days
d/o Stanly J. & Caroline d. 27 Sep 1857 age 10 Days

Gert
gert@foothill.net


++++++++++++++++++++++++

US GNIS says:
Maiden Creek,populated place
Maiden Creek, stream
Maiden Creek Church
Maiden Creek School
This place is near Hamburg and Allentown in Berks County, PA.

Exeter, Township of, Pennsylvania

LAND RECORDS

KIRBY, THOMAS. Maiden Creek. APril 16, 1761 - October 2, 1765

Mentions that heirs seized of a tract of 529 acres of land on Schuykill in Exeter.

ALso of tract of 69 acres adjoining said tract. To oldest son Joseph, the
tract of 69 acres and also 131 acres of the larger tract.

To sons WIlliam and Peter the remainder of said tract being 398 acres, to be
evenly divided among them

To sons Stanley and Michael my tract of 383 acres in Maiden Creek to be
evenly divided.

Also to son Stanley 100 pounds towards maintenance of my wife and dau. Mary
(as she is impotent)

To son Thomas my riding horse, he having been provided for.
To son John 50 pounds having not behaved himself as he should have done.
To dau. ELizabeth 5 shillings.
Remainder to Standly.


---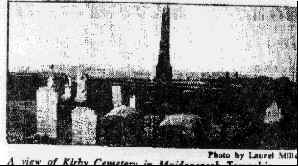 KIRBY CEMETERY

The following inscriptions from this small cemetery, which lies on the east
side of U.S. 222 just south of the town of Kirbyville, were read by Laurel
Miller:

Solomon KIRBY
16 Sep 1800- 17 Feb. 1875 74 years -5 months -1day

Anna Maria KIRBY, wife of Solomon KIRBY and dau. Of Christian and Catharin
FOX
18 Jul 1804 - 13 May 1862; 57 years- 10 months- 24 days

David KIRBY
25 Feb. 1807 - 24 April 1878 71 years 1 month 27 days

Stanly KIRBY
20 Mar 1773 - 12 Jul 1853; 80 years 3 months 21 days
married 14 July 1794 to Hannah MERCKEL 7 sons, 5 daughers

Hannah KIRBY
wife of Stanly dau of Caspar and Blandina MERCKEL
7 Jan 1775- 30 Dec. 1849 74 years 6 months 23 days

Solomon KIRBY
son of Stanly & Caroline;
23 July 1855- 11 Jul 1856; 1 year less a day

Caroline KIRBY
wife of Stanly J., daughter of Daniel and Mary KAUFFMAN;
17 May 1833-14 May 1895; 61 years 11 months 28 days

Son of Stanly J. and Caroline KIRBY, d. 10 March 1854; 14 days
Dau of Stanly J. and Caroline KIRBY, d. 27 Sep 1857; 10 days

Daniel W. KAUFFMAN, son of Daniel and Mary; 30 April 1830 - 5 June 1897;
67 years 1 month 5 days

Elizabeth HAWKINS wife of William; dau of Daniel and mary KAUFFMAN; 10 April
1816- 30 April 1895.

Jacob KOLLER, son of David and Hannah; 11 Feb 1840 - 1 Aug 1842; 2 years 5
months 20 days
David KOLLER, husband of Hannah; 13 Jul 1804- 5 Jan 1862; 57 years 5 months
22 days married 32 years; 5 sons and 5 daughters.

Infant of James & Mary LEIBY, b. 27 Jun 1862
James FLACK 28 July 1857-2 Feb 1902; 43 years 6 months 14 days
Hannah FLACK 18 Jan 1856 - 30 Jan 1901 ; 45 years 0 months 12 days; born
KAUFFMAN.



---
I am just curious if anyone has heard of a VALENTINE KIRBY who migrated to PA.?1775
The following indentured servants to go from London to Philadelphia by the Pennsylvania Packet, Mr. Peter Osborn: =list edited= Valentine Kirby of London, groom, aged 16. (EFE).
Source:
EFE = Emigrants from England to the American Colonies 1773-1776, ed.
Peter Wilson Coldham. Baltimore: Genealogical Publishing Co., 1988.

Sharon Johnson cheraj@reachme.net
---
---
I am writing to you about an ancestor of mine, whose surname apparently was
Kirby. I do not know if you could be of assistance but at this point grasping
at any straw cannot hurt. My ancestor, William Jobes apparently married a
woman named Alcy (sometimes spelt Elsa, Elsie and Alcinda) Kirby. She was born
in Pennsylvania. I suspect on the Fayette - Greene county border. She was born
by cemetery records as about 1773. Married probably in or near Whitely
township in Greene county, probably mid to late 1790. I haven't much more data
about this woman. I know that she would not be a daughter of Issac Kirby.
If you have any knowledge of any woman with any names close to that of this
woman and being born within a reasonable time period please let me know.
Michael Jobes

MRJSJJ4233@aol.com

>
---
Census Records, Show this to be the son of William KIRBY SR & wife Lydia KIMBLE....be sure and check those. You will also find other information on this man's family of descendants on the Calhoun County West Virginia pages.
Descendants of William M. Jr. Kirby
1 William M. Jr. Kirby b: September 04, 1800 in Greene Co., Pennsylvania d: April 07, 1881 in buried Hur Cemetery Lee District,Calhoun County, West Virginia
. +Mary White b: in Greene Co., Pennsylvania m: November 26, 1827 in Tyler County Virginia Father: Resin White d: Bet. 1841 - 1842
.. 2 Nancy Kirby
.. 2 Drusilla Kirby
.. 2 Sarah Kirby
.. 2 Resin White Kirby b: 1829 in Marshall Co. WVA d: Unknown in Hur Cemetery, Calhoun Co. WV
..... +Nancy Jane Bryan b: in Greene Co.Virginia m: December 08, 1852 in Tyler County Virginia d: Unknown in Hur Cemetery, Calhoun Co. WV
.. 2 John Wesley Kirby b: December 11, 1831 in Pennsylvania d: December 26, 1913 in Calhoun, West Virginia, US
..... +Ruhama Stallman b: August 16, 1841 in Gilmer Co, VA m: June 10, 1862 in Calhoun, West Virginia, US Father: Peter Stallman Mother: Jane Holbert d: December 01, 1901 in Hur Cemetery, Calhoun Co. WV
*2nd Wife of William M. Jr. Kirby:
. +Harriett Riggs b: 1821 in Pennsylvania m: Abt. 1842 in Greene County Pennsylvania d: Aft. 1880 in Calhoun County, West Virginia
.. 2 Rachel Ann Kirby b: 1843
.. 2 Elizabeth Kirby b: 1845 in Pennsylvania
..... +Joseph Slider b: 1844 in Tyler Co. Virginia m: August 11, 1866 in Calhoun County West Virginia Father: Jacob Slider Mother: Nancy Unknown
.. 2 Hannah Kirby b: 1848
..... +Harvery Slider m: March 24, 1871
.. 2 Susannah Kirby b: 1850
..... +John Starcher m: June 15, 1868
.. 2 Rebecca Kirby b: 1851 in Greene County Pennsylvania
..... +James McCratic m: June 07, 1873 in Calhoun County West Virginia
.. 2 William H. Kirby b: 1853 in Pennsylvania d: August 16, 1964 in Hur Cemetery, Calhoun Co. WV
..... +Mary Riggs b: January 04, 1855 in Gilmer County, Virginia m: September 09, 1873 in Calhoun County, West Virginia Father: David Riggs Mother: Kasiah Unknown
.. 2 Thomas H. Kirby b: 1856
.. 2 Grigsby Kirby b: February 1859
..... +Mary E. Seward b: 1864 in Calhoun County, West Virginia Father: Henry Seward Mother: Mary Unknown
.. 2 Sylvester Kirby b: March 17, 1862 in Virginia d: July 02, 1935 in Hur Cemetery, Calhoun Co. WV
..... +Rosanna Jane Starcher b: 1862 d: 1908 in Hur Cemetery, Calhoun Co. WV
.. 2 Harriett A. Kirby b: 1869 in Cameron WV
..... +Benjamin Franklin Moore b: in Cameron WV m: May 14, 1905 in Cameron WV